I was very surprised, yesterday afternoon, when my brand-new HP Zbook running Windows 7 crashed after I inserted my good old Huawei broadband wireless USB stick. The crash took the form the once famous BSOD, Blue Screen of Death which has been a trademark of Microsoft as much as Windows itself. Even the Wikipedia link above states that the BSOD is an "error screen displayed by operating systems after a crash"... which is not quite correct, as most Linux and Mac users well know: the BSOD is copyrighted by Microsoft, but the company does not own the concept of Operating System.
What I did not know, as a Linux user who had to switch to Windows recently, is that the BSOD is still around. I had been so naive as to think the BSOD was memory of the past, you know, one of those Windows 3.1 or NT things.
Instead, it's still there. Even in Windows 8, it seems!
I took the only action available when a BSOD happens: I turned off the computer and switched it on again, which I when I got this window: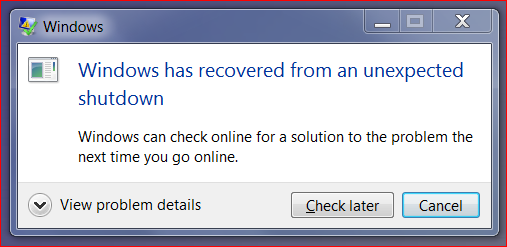 As you can see, there are two options: either you "Check later" or you "Cancel". Checking right now does not seem to be an option!
And what about the problem details? Here is what I got: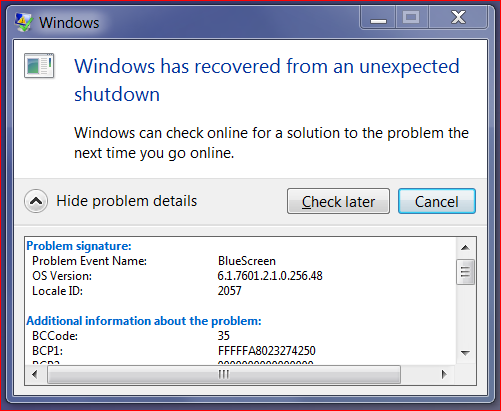 where I discovered that the problem I had is called "BlueScreen"!
Thank you, Microsoft, that's useful indeed!