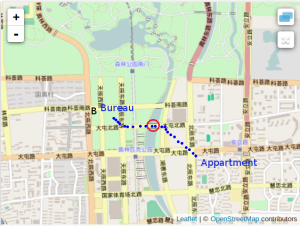 Tous les matins, je me rends au travail à Beijing à pied (environ 20 minutes), en traversant d'abord un carrefour, puis, en diagonale, un terrain "vague" qui est surtout un terrain-à-cerfs-volants, ensuite un pont sur le lac en forme de dragon dont la tête est au sud du parc olympique.
Sur le pont, je croise souvent un très très vieux bonhomme qui marche à côté de son vélo. Il marche avec grande difficulté et très lentement. On se dit qu'il tomberait s'il lâchait le vélo. Dans le panier à courses, il a une trottinette pliable et pliée. Cette trottinette-là m'intrigue au plus haut point!
Hier soir, "avis de tempête" de niveau 9 (sur 10; tout le monde reçoit à Beijing un SMS pour prévenir). Les collègues sont venus me conseiller de rentrer avant que ça démarre. Nous avons de temps en temps des vents du nord qui sont chargés de poussières (la Mongolie n'est pas loin!) et qui s'ajoutent à la pollution. Mais la poussière crisse entre les dents et rend la bouche pâteuse. La pollution n'a pas encore atteint ce stade.
Voici la vue que j'avais du pont en regardant vers le sud hier soir, un peu après 6 heures. On voit quelques bus arrêtés: il y a un arrêt de bus et une station de métro qu'on voit sur la carte, et un centre commercial, sous le "lac".
Nous avons bien eu "un coup de tabac" [*] avec vent et un peu de pluie, mais pas l'enfer promis. Sur la figure ci-dessous, on voit bien le saut des "poussières" (PM2.5 et PM10) à 18 heures (la pollution n'augmente pas aussi rapidement. On voit aussi les valeurs faibles des indices de pollution à partir des premières heures de jeudi matin: le vent a renversé quelques poubelles, cassé quelques branches et dispersé la pollution.
Le résultat du coup de tabac, c'est une nettoyage drastique de l'atmosphère; la qualité de l'air est  "good" le matin du 16 (bien que l'ozone reste élevé, ce que je trouve curieux. Ce n'est d'ailleurs pas la seule donnée incohérente). La vue ressemble à ceci:
On voit bien le "fameux" stade en forme de nid d'oiseau et le bâtiment en forme de flamme olympique (le 15 avril, on ne voyait que la panneau publicitaire).
Rien de bien compliqué, je vous l'accorde. J'ai pensé que ça vous amuserait, de changer des éternelles lamentations sur la pollution à Beijing!
Notes
[*] Haddock dans L'ile mystérieuse, juste avant la tentative manquée d'éperonnage par un bateau de la Bohlwinkel: Une tempête? Mais non. Un simple coup de tabac…

D'après ce site,Strong winds brought Beijing its fiercest sandstorm in 13 years on Wednesday with 11 provinces, municipalities and regions in North China affected.Parts of Xinjiang, Inner Mongolia, Ningxia, Beijing, Tianjin, Gansu, Shaanxi, Shanxi, Hebei and Jilin were affected by the dusty weather from Wednesday afternoon until the evening, the National Meteorological Center (NMC) said.A cold front was forecast to sweep through North China, including in areas along the Yellow and Huaihe rivers, bringing a dramatic drop in temperature of 12 degrees Celsius with strong winds, said the NMC.